Plant Spotlight - Gorse
Plant Spotlight
COMMON GORSE (Ulex europaeu)
Please note – I am NOT a medical herbalist. I experiment with herbs for my own use at home. If you have health conditions please consult a professional herbalist before consuming herbs in quantity or for medicinal reasons. I include safety precautions at the end of the post.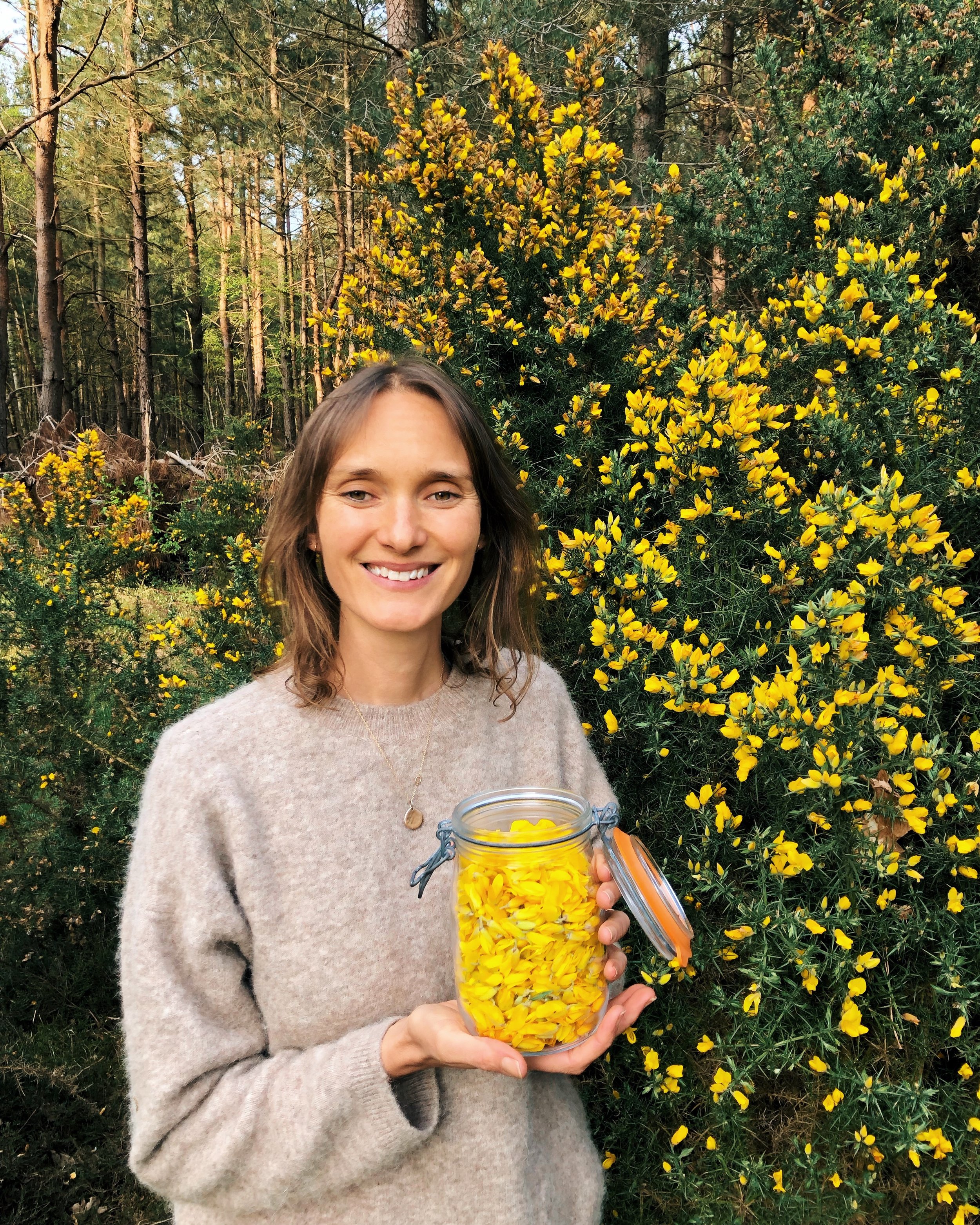 The commons over grown with ferns and rough
With prickly gorse, that shapeless and deformed,
And dangerous to the touch, has yet its bloom,
And decks itself with ornaments of gold.
Cowper
Oh the smell of Gorse on a sunny day. That heady coconut waft, reminiscent of suncream and the seaside. This scruffy plant, actually a member of the pea family, is really showing off in Suffolk at the moment. The beautiful Easter weather (which seems an age ago now) yielded a profusion of yellow blooms along roadsides, coastal paths and heathland so I went foraging. But BEWARE, it is loathsome to pick due to its needle like leaves. Gloves are recommended and it takes some patience. It was an old custom to put a sprig of gorse in a bride's bouquet - ouch!
After posting about this plant on instagram, various New Zealand followers informed me that it is invasive over there and they view it as a noxious weed. An example of a plant in the wrong place. Here it provides habitat for many insects and birds. But what use is it to us? I've seen recipes for Gorse flower infused Gin, Gorse Wine, Gorse flower cordial and syrup, Gorse flower ice cream where the milk is infused. A simple tea can be made from the flowers (1 tablespoons per person and infuse for 7 minutes). You can scatter flowers in salads or use them in baking. However, don't overeat the flowers themselves (ok to infuse them) as they contain slightly toxic alkaloids. Traditionally Gorse flowers were also used to make a yellow dye.
These are all great recipes for using Gorse but there is a problem…as well as being a pain in the ass to pick, it is also hard to extract the trademark coconut scent from the plant - can it ever taste as good as it smells? Honestly I don't think so, but it seems that a cold infusion of the flowers (as opposed to heating in a syrup, milk etc) yields better flavour. With that in mind I've decided to make a simple Gorse Flower Shrub.
What the hell is a shrub?
For those of you that don't know, shrubs are an ancient drink comprised of fruit, vinegar and perhaps herbs. Also known as 'drinking vinegars'. Once used medicinally, why would you want to drink vinegar in this day and age I hear you say?! But trust me, with the right balance of sweetness they are divine. They can be added to cocktails for extra zing or I love using them like a cordial with sparkling water and ice. Wonderfully refreshing on a warm day and an alternative to alcohol that actually appeals. To make them less tart they can be sweetened with sugar or honey.
I'm a obsessed with that sweet, sour flavour and have been making my own concoctions for a few years now. Combinations like Strawberry and basil, Raspberry and Mint, Blueberry and Lemon Verbena and Peach and Chamomile all mixed with Apple Cider Vinegar have worked brilliantly for me. My friend Kylee at the wonderful 'Newton and Pott' has a recipe for Blackcurrant and Lemon Verbena Shrub which is so good. https://www.bbcgoodfood.com/recipes/blackcurrant-lemon-verbena-shrub
But you can also make them without the heating process which means all the probiotics in the raw vinegar are retained. I simply infuse the fruit and herbs in vinegar for 5 days (in the fridge), then strain and add honey. Or if you're happy to use sugar, macerate the fruit, herbs and sugar in the vinegar as above and strain. The sugar will need a good stir to dissolve.
I am using the cold infusion method with my Gorse Flower Shrub.
Recipe
Golden gorse flower shrub
4 large handfuls of gorse flowers
500ml White Wine Vinegar (Coconut Vinegar would be even better if you can get hold of this)
500g unrefined golden granulated sugar (could also use caster sugar)
Rind of x1 lemon
Rind of x1 orange
(If you just want to make a small batch simply use equal proportions of vinegar and sugar and less flowers. If you'd rather use honey, infuse the flowers in vinegar as above and add honey to taste once infused and strained. But you will need a lot honey to balance the vinegar. Keep for 6 weeks. )
Put all ingredients in the jar and give it a good stir to dissolve the sugar. Cover and leave at room temp for 3-5 days. Strain and bottle into sterilised bottle. Use like cordial with sparkling water, ice and a slice of orange. Or use as a base for a gin cocktail. Would also work well as a salad dressing or drizzled over ice cream.
the verdict
This white wine vinegar infusion doesn't fully capture the essence of coconut that gorse smells so strongly of, but has a subtle gorse flavour reminiscent of the British heathland.
Safety precautions - treacherous to pick due to spines. Wear gloves. Don't consume flowers in large quantities as they contain slightly toxic alkaloids.